---
Varied Selection for Numerous Purposes
Rotary Table (Standard)
The standard rotary tables of the KBT series can rotate 360° at every 0.001° both right and left by NC for high-accuracy indexing. In addition to the multi-face machining effectively completed by only one setup, Continuous rotary milling during table rotations is possible in addition to one-setup multi-face machining.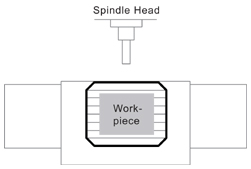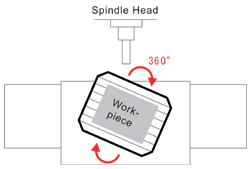 Plain Table
Corresponds to machining of heavy-duty and long workpieces by eliminating the rotary function and widening the table width. Effective continuous machining is also available by one setup of multiple same-shape workpieces on a table.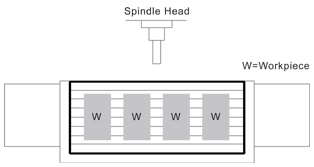 Combination Tables
A sub table at each side of the rotary table for long or multiple workpieces is designed to locate at a position lower than the rotary table not to interfere with a workpiece. Each table can have a different workpiece on it. Moreover, the use of a dedicated fixture (parallel block) can better hold a long workpiece when machining.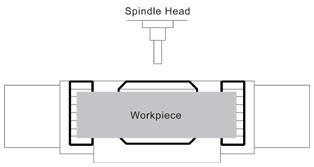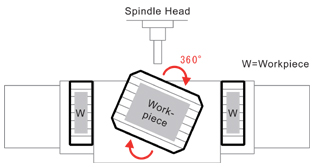 Automatic Pallet Changer (APC)
Use of multiple pallets can allow other workpieces to be set-up multiple pallets for increased productivity. After machining, the pallets are automatically changed, increasing unmanned operation and improving energy efficiency and productivity. More pallets equals longer unmanned operation of the machine.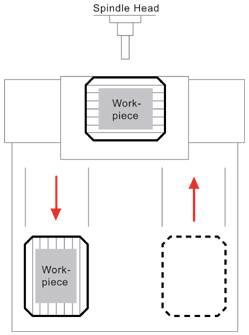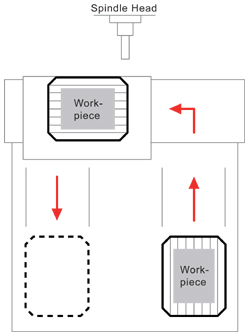 Tilting Table (only KBT-13T.A)
The newest table equipped on KBT-13T.A was developed for the machining of a rotor hub, the key component of a wind power generator. High-accuracy 360° rotary function & maximum 3° tilting mechanism are standard. Multi-face machining of tilted faces is available without having problematic angle setups of tools and fixtures.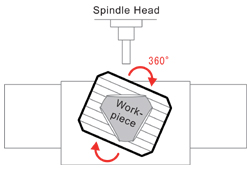 Table Function Chart
| | One-face machining | Multi-face machining | Tilted-face machining | Rotary milling | Long workpiece | Setup efficiency | Continuous machining of multiple workpieces | Unmanned operation |
| --- | --- | --- | --- | --- | --- | --- | --- | --- |
| ●Rotary Table (standard) | ○ | ○ | | ○ | | ○ | | |
| ●Plain Table | ○ | | | | ○ | | ○ | |
| ●Combination Table | ○ | ○ | | ○ | ○ | ○ | ○ | |
| ●Automatic Pallet Changer (APC) | ○ | ○ | | ○ | | ○ | ○ | ○ |
| ●Tilting Table (only KBT-13T.A) | ○ | ○ | ○ | ○ | | ○ | | |
---