KBT-11Z / KBT-11EZ
CNC Horizontal Boring & Milling Machines
---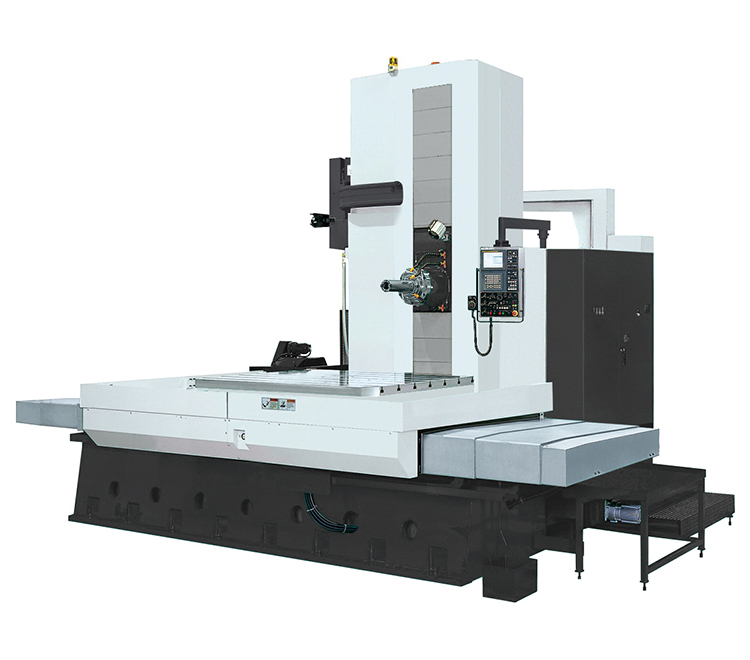 FEATURES

The column traverse allows for heavy-duty workpieces and improves accessibility to the workpiece.
Standard coil type chip conveyor provides parallel to the X-axis capable of effective swarf disposal and cutting fluid disposal.
Powerful heavy-duty cutting via high-torque 3-steps geared head.
Efficient chip management using a coil-type chip conveyer in the horizontal X axis as standard equipment.
High-accuracy indexing ensures standard rotary milling.
Standard Big-Plus dual contact system.
US Standard Specifications
Unit
KBT-11Z
KBT-11EZ
Stroke
X axis travel (table longitudinal)
Inch (mm)
98.43 (2,500)
98.43 (2,500)
Y axis travel (spindle head vertical)
Inch (mm)
78.74 (2,000)
78.74 (2,000)
Z axis travel (column cross)
Inch (mm)
47.2 (1,200)
47.2 (1,200)
W axis travel (boring spindle axial)
Inch (mm)
19.69 (500)
19.69 (500)
Distance from table top to spindle center
Inch (mm)
0~78.74 (0~2,000)
0~78.74 (0~2,000)
Distance from table center to spindle nose
Inch (mm)
23.62~70.87 (600~1,800)
23.62~70.87 (600~1,800)
Table
Table work space
Inch (mm)
55.12 x 68.90 (1,400 x 1,750)
55.12 x 68.90 (1,400 x 1,750)
Table maximum loading capacity
lbs (kg)
22,000 (10,000)
22,000 (10,000)
Table top profile
Inch (mm)
0.87 (22) x 7 T-slots
0.87 (22) x 7 T-slots
Table auto. Indexing
Degree
0.001 (every 90 degree index by locator pin)
0.001 (every 90 degree index by locator pin)
Spindle Head
Boring spindle diameter
Inch (mm)
4.33 (110)
4.33 (110)
Spindle speed
rpm
5~3,000
5~4,500
Spindle Torque (30min / Continuous)
ft.lbs (Nm)
2,348 / 1,987 (3,183 / 2,694)
1,925 / 1,630 (2,610 / 2,210)
Spindle speed change range
step
3
3
Spindle taper
7/24 Taper No. 50 (BIG-PLUS dual contact spindle system)
7/24 Taper No. 50 (BIG-PLUS dual contact spindle system)
Feed
Rapid traverse (X, Y, Z axes)
inch/min (m/min)
472.44 (12)
708.66 (18)
(W axis)
inch/min (m/min)
393.70 (10)
393.70 (10)
Feedrate (X, Y, Z axes
inch/min (m/min)
0.04~236.22 (1~6,000)
0.04~472.44 (1~12,000)
(W axis)
inch/min (m/min)
0.04~236.22 ( 1~6,000)
0.04~236.22 (1~6,000)
Table revolution
rpm
2.0
2.0
Automatic Tool Changer (ATC)
Tool shank
MAS CAT50
MAS CAT50
Pull stud
MAS P50T-1 (45 degree)
MAS P50T-1 (45 degree)
Tool storage capacity
pc
40
40
Max. tool diameter [vacant adjacent pots]
Inch (mm)
4.92 (125) [9.45 (240)]
4.92 (125) [9.45 (240)]
Max. tool length)
Inch (mm)
23.62 (600)
23.62 (600)
Max. tool weight
lbs (kg)
66 (30)
66 (30)
Tool selection
Fixed tool pot,
shortcut magazine rotation
Fixed tool pot,
shortcut magazine rotation
Motors
Spindle motor (30min/Continuous)
HP (kW)
35/30 (26/22)
35/30 (26/22)
Feed motor (X axis)
HP (kW)
8.0 (6.0)
12.0 (9.0)
(Y axis)
HP (kW)
5.6 (4.2)
8.0 (6.0)
(Z axis)
HP (kW)
12.0 (9.0)
12.0 (9.0)
(W axis)
HP (kW)
4.0 (3.0)
4.0 (3.0)
(B axis)
HP (kW)
5.4 (4.0)
5.4 (4.0)
Voltage
Power capacity (Not incl. options)
kVA
54
67
Air pressure source pressure
MPa
0.5
0.5
Air pressure source flow (Not incl. options)
NL/min (atm)
400
1200
Dimensions
Machine height
Inch (mm)
179.14 (4,550)
179.14 (4,550)
Floor space (Not incl. options)
Inch (mm)
229.92 x 236.21 (5,840 x 6,000)
229.92 x 236.21 (5,840 x 6,000)
Machine weight (incl. NC unit)
lbs (kg)
61,600 (28,000)
61,600 (28,000)